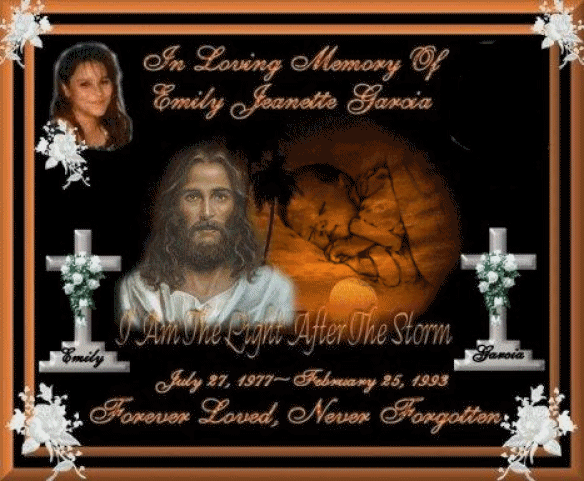 In Loving Memory Of Our Angels
Emily & Emilio Garcia

Below is the link to the web site that I started making in 2003 about Emily, her abduction, rape, & murder, and all the information our family has obtained over the years to try to help find Emily & her unborn son Emilio's killers. Anyone who saw this site would have a hard time telling anything about Emily's case, about Emily, or about our family & our search for justice for them without having read about it on this site.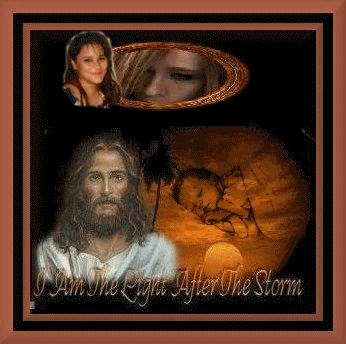 Savannah(above), daughter of Stephanie, the lady from Las Vegas that contacted me telling me that Savannah was having visions of Emily. Not long after sending me this email, Savannah did a show called Paranormal State, "Vegas" series about these visions...was she really having visions or was the information taken from Emily's web site which they saw and read before telling me or Paranormal State about these visions and why was this fact kept out of the Paranormal State Show...You Decide!!!!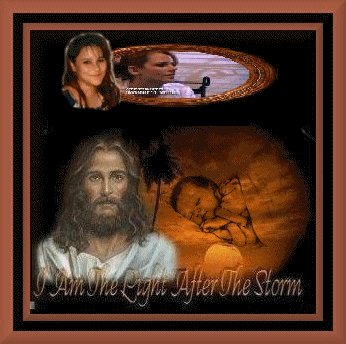 On the next page(Page 34) of this web site that I created after being contacted by a lady in Las Vegas named Stephanie(above) and her daughter Savannah telling me that Savannah had been having visions of a young girl named Emily and after doing a Google search, they were surprised to have found Emily's web site that I made.This page also deals with the fact that Stephanie and her daughter Savannah did a TV show called Paranormal State, "Vegas" series about these visions that she was supposedly having of Emily and how we felt this show was handled by the Paranormal State Psychics and Mediums.
The show was aired about Savannah and her visions before our family was even aware there was a show being considered, much less already filmed and aired.

A few days after this show was aired, I was contacted by Paranormal State to see if our family would consider doing a follow-up show on Savannah's show and her visions she claimed to be having of Emily. I called my sister Sheila(Emily's Mother) in San Antonio, TX to see how she felt about the idea and after much consideration, Sheila decided that if nothing else came out of doing this show that at least the exposure may help our family in some way to finally find the monsters who took Emily & Emilio away from us and put them behind bars where they could never do this to another family, so some of Paranormal State's psychics or mediums went to San Antonio to Sheila's house to film this show.....A big mistake....I am still very angry about the disrespectful way that my sister was treated by these people because she refused to say what they wanted her to and insisted on telling her true feelings about it.
Also not long after the show was done of Savannah, I was contacted by Mr. Ernie Marsh asking me if I had the emails that were sent to me by Savannah and her mother Stephanie before this Paranormal Show was ever aired where they admitted seeing Emily's large web site before they ever contacted me about the visions that Savannah was supposedly having of Emily. This was never mentioned on the show that was done or the fact that our family was not even told anything about this show until after it aired and a friend of mine saw the show and called me to tell me what she thought of it.....What a shock to our family since we had no idea about any of it, except the email I got from Savannah's mother and the email I sent back to her.
I quickly informed Mr. Marsh that I kept All the records, emails, information, or anything else that I ever posted to Emily's site and informed him that I would be happy to send him copies, which I did just a couple of days later. Mr. Marsh then informed me that he was interested in making a web site about the Paranormal State Show and it's producers and how they had handled our case about Emily and Emilio and asked for our permission to use these copies in any way that he needed to expose shows like Paranormal State and their claims to help families like ours who had gone through the tragedy of having a loved one abducted, raped, and murdered. We quickly gave him our permission and continue to work with him still today in any way we can to help him do this....Are these shows real and do they really help in any way to solve these murders and help these families or is it all a hoax for ratings??? You can decide yourself by following the links below to everything Mr. Marsh has put on his site and the feeling that people had once they read All of the facts and not just some of them. Please let us know what you think and help Mr. Marsh and our family to expose shows like this and keep them from hurting other families like they did ours. Thank you and God Bless.
Below is the link to Mr. Marsh's web site on the Paranormal State Show "Vegas" About Savannah Seeing Emily

Below is the link to the Season 1 Episode "Vegas" aired about Emily and Emilio and their murder case.

Below is the link to the forums where people have given their opinion on this show once they were given All of the facts and not just the ones that Paranormal State wanted them to have.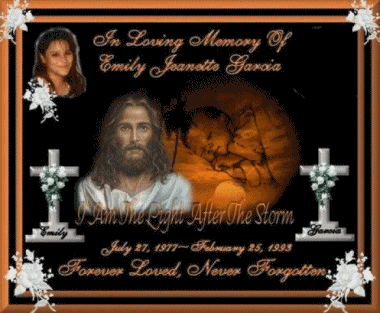 We need your help in finding who murdered Emily Jeanette Garcia and her unborn son Emilio on February 25, 1993 in Canyon Lake, Texas. Emily was only 15 years old at the time of her murder and pregnant with a little boy. Emily had been reported missing from San Antonio, Texas on February 12, 1993, which was 13 days before she had been murdered and her body found. If anyone has any information about Emily, about the 13 days that she was missing before she was murdered, or about her murder, please contact:
Comal County Sheriff's Office
Criminal Investigations Dept.
Det. Sgt. Tommy Ward
Phone # 830-620-3400

soatgw@co.com
Case#93-00164
Or


Or
Emily's Family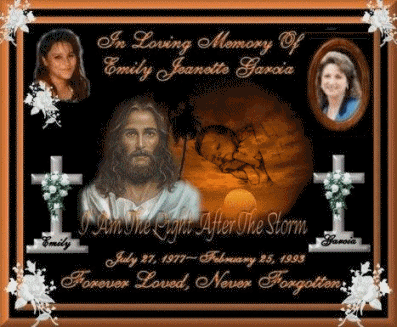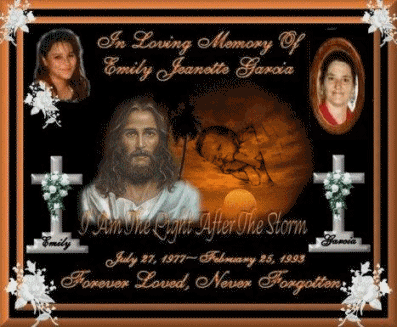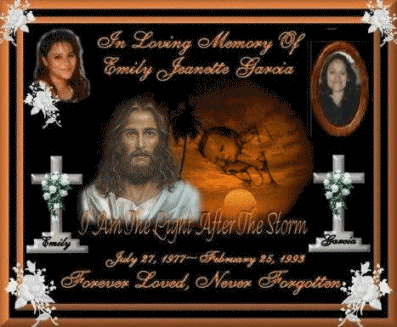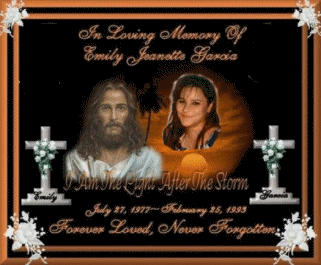 Please help us find who murdered Emily Jeanette Garcia and her unborn son Emilio. It has been 19 years for our family since their murder and we need answers and justice.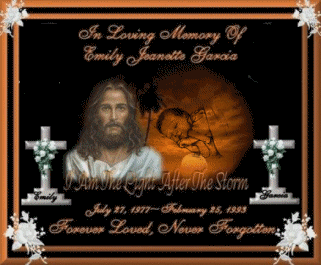 The dead cannot cry out for justice; it is a duty of the living to do so for them.



Page & Graphics Created With Much Love By Theresa
In Memory Of Our Angels Emily & Emilio Garcia
EdwardianScript ITC Bold Font
Color# ff9966