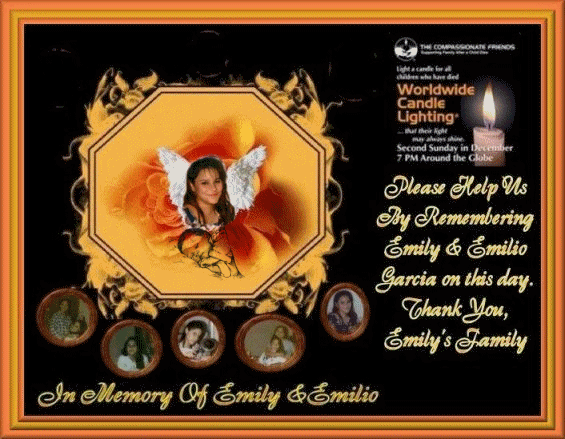 In Loving Memory Of Our Angels
Emily & Emilio Garcia

We ask all of you to join with us for this one hour from 7:00-8:00 P.M. on December 13, 2009 by lighting a candle in memory of Emily Jeanette Garcia and her unborn son Emilio and any other child that you know who has died by any cause. This is a worldwide ceremony that is hosted by The Compassionate Friends and is to remember all children who have died around the world from any cause and their families. I know a lot of you who visit Emily's site also have lost children and I will be lighting a candle in their memory also. I ask that all of you get together and help to make sure that all of our children are remembered on this day and that we make the lights from our candles shine bright throughout the world for them. All the details for this event are below. Please join us in honoring all of our angels. Thank you and God bless you all.
Emily's Family
Theresa, Sheila,& Elizabeth



Host: Remembering Our Angels
Type: Other - Ceremony
Network: Global
Date: Sunday, December 13, 2009
Time: 7:00pm - 8:00pm
Location: Worldwide - From your home or where ever you can light a candle.
Street: Virtual Event - or - with your Local Compassionate Friends Group
Email:
webmaster@myangelsinheaven.us
Description:
Held annually the second Sunday in December, this year December 13, 2009, The Compassionate Friends Worldwide Candle Lighting unites family and friends around the globe in lighting candles for one hour to honor and remember children who have died at any age from any cause. As candles are lit at 7 p.m. Local time, creating a virtual wave of light, hundreds of thousands of persons commemorate and honor children in a way that transcends all ethnic, cultural, religious, and political boundaries.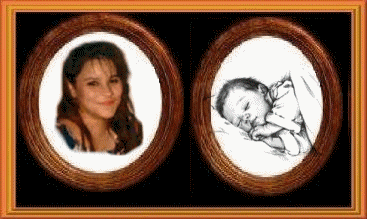 We need your help in finding who murdered Emily Jeanette Garcia and her unborn son Emilio on February 25, 1993 in Canyon Lake, Texas. Emily was only 15 years old at the time of her murder and pregnant with a little boy. Emily had been reported missing from San Antonio, Texas on February 12, 1993, which was 13 days before she had been murdered and her body found. If anyone has any information about Emily, about the 13 days that she was missing before she was murdered, or about her murder, please contact:
Comal County Sheriff's Office
Criminal Investigations Dept.
Det. Sgt. Tommy Ward
soatgw@co.comal.tx.us
Case#93-00164
Phone # 830-620-3400
Or

Or
Emily's Family

Elizabeth Garica(Emily's Sister)
Phone#210-425-5536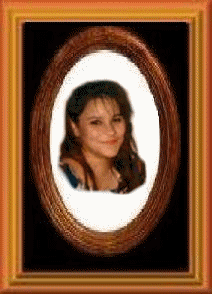 Please help us find who murdered Emily Jeanette Garcia and her unborn son Emilio. It has been 19 years for our family since their murder and we need answers and justice.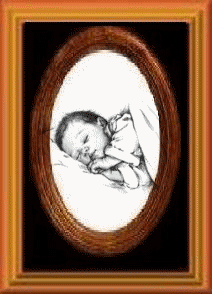 The dead cannot cry out for justice; it is a duty of the living to do so for them.


Page & Graphics Created With Much Love By Theresa
In Memory Of Our Angels Emily & Emilio Garcia
Edwardian Script ITC Bold Font
Color#ff9900

Find sex offenders near me